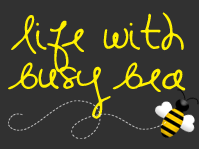 See that? You
may or
may not have noticed this little gem hanging out on the right hand side of our blog. It's our fancy, schmancy Blog Button. What does it do? It helps spread the word about the awesomeness that is "
Beatrice Kate
". (Trust me, she's pretty awesome.)
If you have a blog, it's an easy way to help link others to our site! It's super quick to install: Just copy and paste the code into your sidebar. Then, all your friends can tell their friends and their friends can tell their friends. Wait. Who am I kidding?!? That will never happen. Dad's friends don't have
the internet
a blog.
But a girl can dream ...
In all seriousness, there are some exciting things happening around here and you're going to want to stay easily connected! Soon, we'll start featuring reviews and even some neat, free stuff for our loyal blog reader (Ahem, Daddy... you may not be eligible. Sorry.)
So, go ahead. Copy and Paste. You know you want to.You'll earn the love and admiration of the world's biggest tiny baby if you do ...
Oh, and if you've already installed our button, leave me a comment below and let me know! It's always fun to see who's out there.
Have a great holiday weekend. Did I mention it's my birthday?!? Oh, yea. Only a few thousand times already, I'm sure. What? It's the one day a year I don't have to clean and I have a good excuse to make Casey change all the diapers. Rumors are swirling that I don't even have to make my own cake this year. I guess we'll find out on Sunday... stay tuned.